EXHILARATING DRIVE
The all-new 2019 Mazda MX-5 Miata is a performance machine. Weighing in at only 2,342 pounds, its lightness allows unprecedented agility. The Miata sports a 181 horsepower four-cylinder engine, adding 26 horsepower since the 2018 model, enabling even faster potential. In Edmunds' testing, the Miata recorded a 0-60mph time of 6.0 seconds, which is impressively quick for such an affordable roadster.
The Miata can also stop from 60mph in 112 feet, a great statistic for the class. Furthermore, the available Brembo brakes can handle all kinds of spirited driving, no matter the conditions. Throw in a 50/50 front to rear weight distribution and precise steering response, and the Miata is indeed capable of thrilling performance, while also remaining perfect for everyday commuting situations.
All things considered, the new 2019 MX-5 Miata is one of the most fun cars to drive on the market.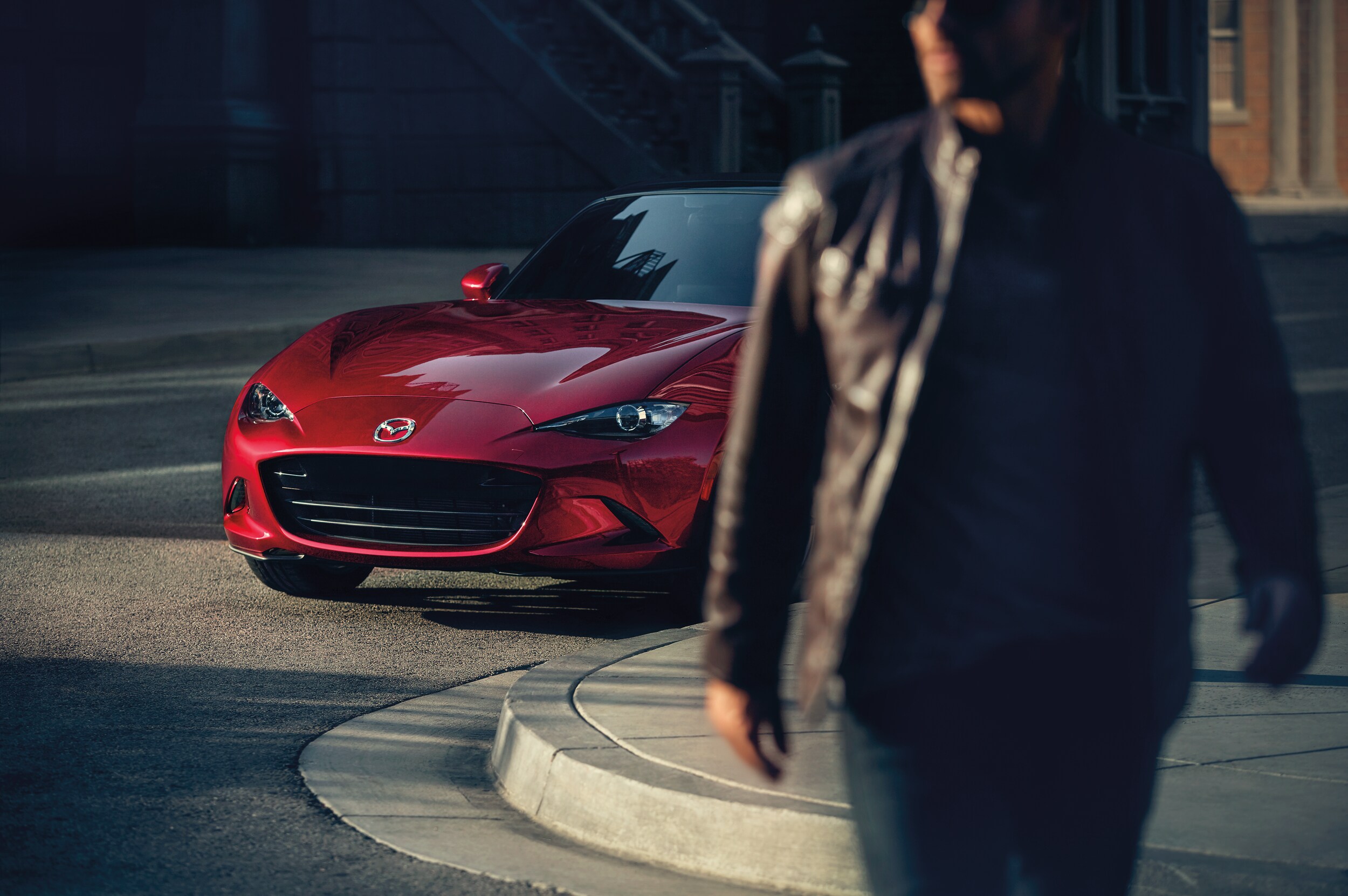 COZY CABIN
The all-new 2019 MX-5 Miata's interior has been refined to perfection. The seats are cozy and supportive; and the available Recaro sport seats supply a fantastic mix of comfort, breathability, and support. Though a coupe, the two seat Miata provides plenty of legroom and headroom.
Forward visibility is excellent thanks to the panoramic windshield's positioning and slim roof pillars. The MX-5 Miata is easy to get in and out of, and the interior's soft-touch materials and modern design compliment the overall driving experience. The new Miata's standard Mazda Connect infotainment system comes with a 7-inch touch screen, available nine-speaker Bose audio system, and satellite radio. In addition, voice commands can place calls, navigate to destinations, and make audio selections.
The climate control system works to cool the cabin quickly, and the seat heaters operate with the same industry-leading vigor. Step your game up with the all-new MX-5 Miata.
BONUS FEATURES
There's no better value for the money than the all-new 2019 MX-5 Miata. The Miata gets 26 mpg in the city and 34 mpg on the highway; numbers few other sports cars can match. The Miata is also rather reliable, scoring an above average reliability rating of 3.5 out of 5 from J.D. Power.
A rearview camera is now standard in the Miata, and available driver assistance features include blind spot monitoring, rear cross traffic alert, lane departure warning, traffic sign recognition, low speed automatic emergency braking, automatic headlights, and rain-sensing windshield wipers. The manual convertible top can be easily opened from inside and can be closed from within as well. The top is rigid and light enough that you can operate it with one hand or from one side of the car. Any way you slice it, the all-new 2019 Mazda MX-5 Miata is a road ready speedster that grants the ultimate driving experience.
Find yours today at Kenny Ross Mazda.
Sales and Service
888-313-7580
Hours:
Monday - Thursday - 9:00 am - 9:00 pm
Friday - 9:00 am - 6:00 pm
Saturday - 9:00 am - 5:00 pm
Sunday - Closed